Description
Pebble Grey is a light heather grey with an easy-to-maintain, wood-like grain pattern, making it the simple choice.
With such an easy design scheme, Trex Select decking adds legendary luxury to your home more affordably than ever. Trex Select decking features high-performance shell technology and nature-inspired colors. Now more than ever, you can complete your high-caliber outdoor living system without compromise.
Trex Select Highlights
Stands up to both weather and weekend mishaps alike, thanks to its high-performance shell
Resists stains and mold better than traditional composites
Comes in five easygoing colors that pair smartly with any style home
Offers a soft, splinter-free finish that's comfortable underfoot
95% recycled plastic, reclaimed wood and sawdust keeps it green
Backed by a 25-Year Limited Residential Fade and Stain Warranty
Trex Select are offer in two decking profiles: square edge or grooved edge. Square edge boards install with deck screws like wood decks. Grooved edge boards install with Trex's Hidden Fastening System beneath the deck surface, leaving a tidy finish free of screw holes.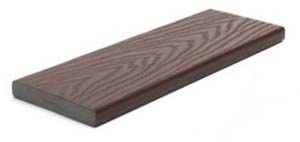 (not actual color)
1″ Square Edge Boards Lengths
.82 in x 5.5 in x 12 ft (20 mm x 140 mm x 365 cm)
.82 in x 5.5 in x 16 ft (20 mm x 140 mm x 487 cm)
.82 in x 5.5 in x 20 ft (20 mm x 140 mm x 609 cm)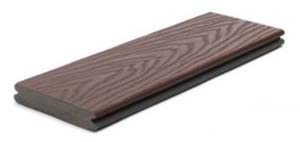 (not actual color)
1″ Grooved Edge Boards Lengths
.82 in x 5.5 in x 12 ft (20 mm x 140 mm x 365 mm)
.82 in x 5.5 in x 16 ft (20 mm x 140 mm x 487 mm)
.82 in x 5.5 in x 20 ft (20 mm x 140 mm x 609 cm)