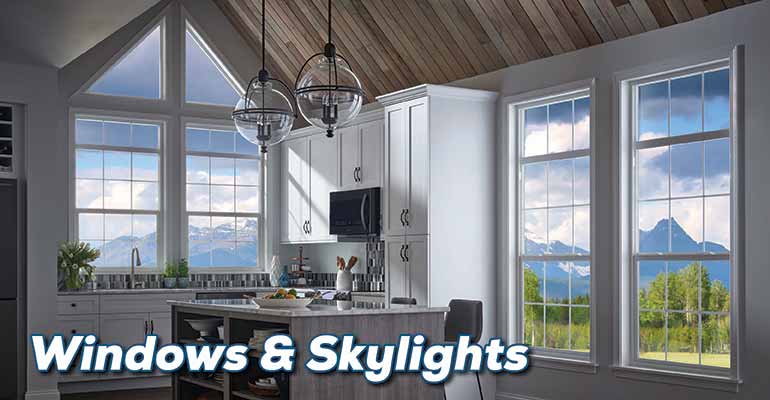 The windows in your home not only add natural light and architectural style, they play a substantial role in the energy efficient performance of your home. Parr's window specialists work closely with architects, contractors, and homeowners, offering advice on the best products and styles to fit any need you may have.
Vinyl Windows
From residential to commercial use, vinyl windows have been engineered, refined, and tested for decades to perform in the most adverse conditions. Constructed with polyvinyl chloride frames, the common styles include single-hung, double-hung, sliding, casement, awning, and fixed.
Additional design options include hardware finishes, frame colors, and grid designs. Glazing options are also available to further increase energy efficiency and added protection from damaging ultraviolet rays.
Why choose vinyl windows?
Superior value
Energy efficiency
Functionality
Low maintenance
Appearance
Vinyl windows manufacturers include:
Ply Gem
Cascade
Jeld-Wen
Milgard
Clad Wood Windows
Because of the variety of styles, hardware options and sizes, wood windows complement any architectural styles. Aluminum or vinyl clad wood windows are virtually maintenance free. Available in a variety of exterior colors and design options, the interior wood frame can be painted or stained to match the interior of your home.
Why choose wood windows?
Aesthetic appeal complements many architectural styles
Superior construction offers lasting performance
Extensive hardware options
Several interior and exterior color options
Add to your home's value
Wood windows manufacturers include:
Fiberglass and Composite Windows
Fiberglass and composite windows are similar to wood in many ways. One of the biggest differences is affordability. Fiberglass and composite products are priced competitively yet still offer many of the features found in high-end wood offerings.
Fiberglass as a frame material is an excellent choice. The expansion and contraction rate of fiberglass is nearly the same as the glass unit seated inside it, so the opportunity for seal failure is minimized.
Why choose fiberglass or composite windows?
Low maintenance
Energy efficient
Stable frame materials
Variety of glazing options available
Brands promoted by Parr include:
Integrity by Marvin
Andersen 100 series
Milgard
Glass and Acrylic Block
Glass and acrylic block windows are available in a variety of patterns that offer different levels of obscurity. Frames are made of aluminum or vinyl and come in a wide range of colors.
Benefits of glass block:
Available in various patterns for varying degrees of privacy
Clean and sleek
Modern feel
Available at Parr:
Skylights
One of the easiest ways to attract natural light into your living space is to install a skylight. As a low-maintenance option, skylights are one of the easiest permanent solutions to create an atmosphere with natural light and privacy.
Advantages of skylights:
Brighten bedrooms, kitchens and living rooms
Energy efficient designs
Allows more natural light throughout your home
Additional features of skylights include:
Blinds
Automated controls
Security locks
Parr stocks a wide range of skylights from top producers, which include:
More Information
See the windows and skylights section in our Product Selection Guide for more info.