Description
A burnt umber with onyx black lowlights, Spiced Rum resembles tropical ipe, with its true-to-nature vibrancy and realistic grain pattern.
Transcend decking's deep wood-grain pattern and luxury colors create a premium, ageless look that leave other composites in the dust. Transcend Tropical are available in five colors: Havana Gold, Island Mist, Lava Rock, Spiced Rum, and Tiki Torch.
Trek Transcend is hassle free. No sanding. No staining. No painting. Just simple soap-and-water clean up.
Transcend decking maintains its vibrant color and luxurious finish–come scorching sun or red-wine spill–thanks to its unyielding, three-side shell protection. Trek offers a 25-Year Limited Residential Fade and Stain Warranty.
Trek Transcend decking makes you feel good about the outdoors because the boards are made from 95% recycled materials (that's almost the entire board).
Trex Transcend Highlights
Engineered with unrivaled fade, stain, scratch and mold resistance
Hassle-free maintenance takes the work out of the weekend
Designed in multiple, rich, lasting colors and a natural-looking wood grain
Two distinct styles: premium tropical colors and rich classic earth tones
Pairs with Trex Transcend railing for unmatched design possibilities
Made from 95% recycled materials
Backed by limited warranties against material defects and against fade & stain
Trex Transcend are offer in two decking profiles: square edge or grooved edge. Square edge boards install with deck screws like wood decks. Grooved edge boards install with Trex's Hidden Fastening System beneath the deck surface, leaving a tidy finish free of screw holes.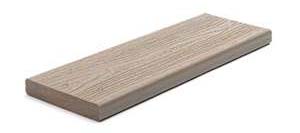 (not actual color)
1″ Square Edge Boards Lengths
.94 in x 5.5 in x 12 ft (24 mm x 140 mm x 365 cm)
.94 in x 5.5 in x 16 ft (24 mm x 140 mm x 487 cm)
.94 in x 5.5 in x 20 ft (24 mm x 140 mm x 609 cm)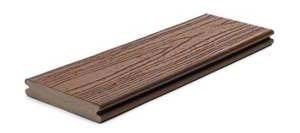 (not actual color)
1″ Grooved Edge Boards Lengths
.94 in x 5.5 in x 12 ft (24 mm x 140 mm x 365 mm)
.94 in x 5.5 in x 16 ft (24 mm x 140 mm x 487 mm)
.94 in x 5.5 in x 20 ft (24 mm x 140 mm x 609 cm)