Description
A true brown, Coastal Bluff is a medley of earthy taupe hues, featuring a low-maintenance, wood-like grain pattern.
Trex Enhance Naturals offers an authentic wood-grain appearance. This high-performance collection includes five multi-tonal colors inspired by nature: Coastal Bluff, Foggy Wharf, Rocky Harbor, Sunset Cove and Toasted Sand.
Trex Enhance Naturals features fade and stain protections, as well as enhanced mold and mildew resistance, to make maintenance simple. Because Trek Naturals boards are scalloped, they are as lightweight as lumber, but without the extra work of wood decking.
Trex does not harvest rainforests to make their boards. Enhance Naturals — like all Trex decking — is made of recycled materials, from reclaimed wood and sawdust to plastic packaging.
Trex Enhance Naturals Highlights
High-performance decking is fade, stain, mold, and mildew resistant
Cleans easily with just soap and water or pressure washer
Soft, splinter-free finish is comfortable underfoot
Versatile colors feature a refined wood grain that adds depth and luxury to any backyard
Pairs beautifully with all Trex railing lines
95% recycled plastic, reclaimed wood and sawdust keeps it green
Backed by a 25-Year Limited Residential Fade and Stain Warranty
Trex Enhance Naturals are offer in two decking profiles: square edge or grooved edge. Square edge boards install with deck screws like wood decks. Grooved edge boards install with Trek's Hidden Fastening System beneath the deck surface, leaving a tidy finish free of screw holes.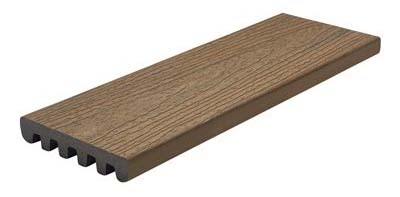 (not actual color)
1″ Square Edge Boards Lengths
.94 in x 5.5 in x 12 ft (24 mm x 140 mm x 365 cm)
.94 in x 5.5 in x 16 ft (24 mm x 140 mm x 487 cm)
.94 in x 5.5 in x 20 ft (24 mm x 140 mm x 609 cm)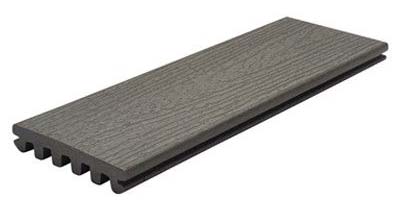 (not actual color)
1″ Grooved Edge Boards Lengths
.94 in x 5.5 in x 12 ft (24 mm x 140 mm x 365 mm)
.94 in x 5.5 in x 16 ft (24 mm x 140 mm x 487 mm)
.94 in x 5.5 in x 20 ft (24 mm x 140 mm x 609 cm)