Attention all DIY enthusiasts and professional craftsmen! The SKIL power tools demo is coming to your nearest PARR LUMBER store starting April 11th! Get ready to witness the power and precision of SKIL's impressive range of tools, all while enjoying some delicious donuts and coffee.
At the SKIL power tools demo, you'll have the chance to get hands-on experience with some of the best power tools on the market. From drills and saws to sanders and routers, SKIL has got you covered. And the best part? You'll be able to take advantage of some amazing deals on all SKIL products. Whether you're looking to upgrade your existing tools or start building your collection, the SKIL power tools demo is the perfect opportunity to get your hands on some top-quality equipment.
But that's not all. The SKIL Tour is also bringing some of the industry's leading experts to your local PARR LUMBER store. These experts will be on hand to answer any questions you may have about SKIL power tools, as well as offer tips and advice on how to get the most out of your tools. Whether you're a seasoned professional or a novice DIY-er, the SKIL Tour is a great opportunity to learn from the best.
So mark your calendars and don't miss out on this exciting opportunity to experience the power of SKIL's range of power tools. The SKIL power tools demo will be taking place at your nearest PARR LUMBER store from the 2nd week of April, and we can't wait to see you there. Happy drilling!
SKIL PARR LUMBER LOCATIONS from 7:30 am to 10 am
For all the events, visit: https://parr.com/events/
Visit one of our SKIL events for event giveaways and free gifts.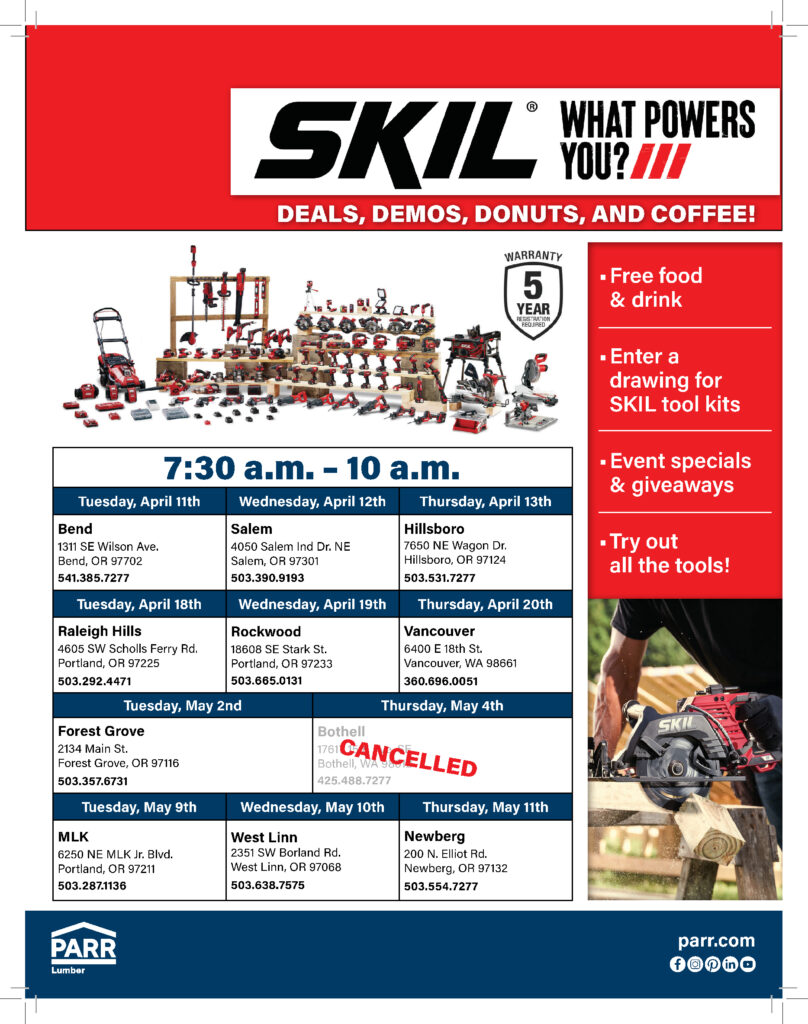 Click to view or print