Our very own Mr. BBQ – Greg Papworth is bringing us his favorite recipesk!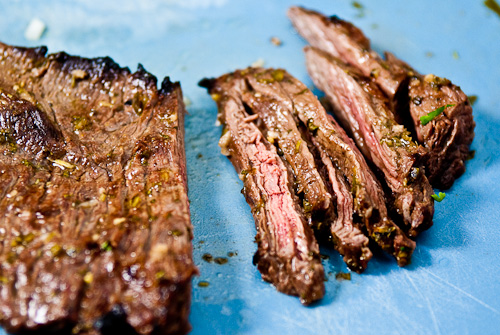 Today we are going to burn some Carne Asada.
This recipe is brought to you by Pappy at Mack's Finer Foods home of the Pappy Dogs. Now in 4 flavors, Pappy, Peppy, Beefy and EL Peppy. You can find these at your local Market or Grocery store.
This recipe is simple but the flavors are outstanding.
You can use Flank, Skirt or Flat Iron. I prefer Flat Iron because of texture and flavor. Most recipes call for Skirt or Flank but Flat Iron works great.
I get at least 8 oz. of Steak per person.
Mix in a bowl the following:
1/4 Soy Sauce
1/4 Water (you can substitute beer light in color)
1/4 Vegetable Oil
2 TBS. Worchester Sauce
2 TBS. Lemon Juice
2 TBS. Lime Juice
2 TBS. White Vinegar or Red Wine Vinegar
4 Gloves of Garlic Crushed
1/4 tsp. Cayenne Pepper
1/4 tsp. Sea Salt
1/4 tsp. Black Pepper
1/4 tsp. Cumin
1/2 TBS. of Mexican Oregano
1 TBS. Chipotle Seasoning
1/4 tsp. Mexican Chili Powder
1/2 tsp. Mexican Paprika (Smoked Paprika will also work)
1 Cup of Chopped Green Onions
1 Cup Cilantro Chopped (no stems)
You can always adjust the seasoning to your desired taste.
Mix all of the above ingredients in a bowl and let dissolve and marinate together. Once dissolved place the marinate and Steak in a large plastic bag and seal.
24 hours would be great for the marinate but you can go same day. The longer the better for marinate.
Fire up the Grill or Smoker to 400F to 425F…know your grill.
Make sure your smoker is clean enough to handle this kind of heat. I didn't pay attention and had a small fire last week in my smoker….wasn't pretty. (my story and sticking to it)
Luckily I live in the country and no fire trucks…seriously. Defiantly a rookie oops.
We are not looking for a slower burn here, more of a score or sear of the meat. Crispy outside and nice and tender inside. We don't want to overcook this kind of Steak.
We also want good grill marks on the steak.
Once you get the heat to the desired level place the marinated Steak on the grill at an angle for the grill marks. We are going to cook for 5 to 7 minutes per rotations. Remember there will be 2 rotations per side and one time turning the Steak over on the grill. Overall cook time should be about 10 to 12 minutes per side. Once again know your grill.
When you reached your desired temperature take Steak off of the Grill or Smoker. We are looking for 140F internal heat.
Make sure when you take the Steak off the grill you let stand at least 10 minutes. Take the time to this it will help retain the juices.
After the Steak has had time to settle place on a good cutting board. Your Steak should have a longer side verses a shorter wider side. We are going to slice the meat at a 45 degree angle. Start at the bottom smaller width and slice until you get to the end of the longer length. Your pieces should be 4″ to 6″ in length and the slice width should about a 1 to 1 1/2 inches.
Lay the Sliced Steak nicely and even on a serving plate. Garnish with some Green Onions and a bit of Cilantro.
In last week's Kabob menu we did vegetables on the grill. You can do the same thing for this dish. Chop up vegetables and place in a pan on the grill. Sauté them with some of the marinate you used for the meat. Let them soften on the grill. Place tortillas on the grill and warn them up. Once warmed to the desired heat place the Vegetables and Steak with your favorite Salsa, Pico Diego, Sour Cream or Guacamole on the tortillas.
These are fantastic!! As always "enjoy the burn".
---
KABOBS …love me some Kabobs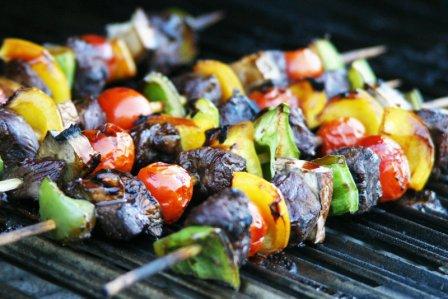 This recipe is brought to you by Pappy @ Mack's Finer Foods home of the Pappy Dogs. Now in 4 flavors…..Pappy, Peppy, Beefy and EL Peppy. You can find these at your local Market or Grocery store. Today were are going to do KABOBS …love me some Kabobs. Today recipe is for meat and vegetable kabobs grill on the BBQ or on a Smoker. We are going to do Steak, Chicken, Shrimp and Vegetables. I prefer to cook the meat separately from the vegetables on the Kabobs. I feel you get a better more even burn when doing them separately. It is also about making the Kabobs as even in size as possible. This is why I like to cook them separately. Today we are going to cook Steak, Chicken and Shrimp along with some great marinated veggies.
I would recommend at least one meat and one vegetable skewer per person. Now that being said around my house it would be more per person. So depending on how many people you are going to serve get plenty and enjoy. On these I would recommend Flat Iron Steak (although any good quality steak would work, don't go cheap you get what you pay for) Chicken Breast and some large Shrimp. On the Shrimp I would go with wild 14 to 16 per pound at a minimum on size. When you get smaller Shrimp like 20 to 24 per pound they cook way to fast. And they just don't have the flavor. I also like Wild caught Shrimp or Scampi for flavor. When you buy the skewers get the long ones. If you use wood skewers make sure to soak them in water so they don't burn. Get enough meat for each person to have to have 3-4 pieces of Beef, Chicken and Scampi. The size of each piece of meat should be 1 1/2″ cubed or as close as you can to that size. I cook the Scampi on its own skewer. The Steak and Chicken are ok on the same skewer when cooking. The vegetables are all cooked on their own also. It just really makes it easier to cook them evenly.
Ingredients: per person
3-4 oz. Flat Iron Steak
3-4 oz. Chicken Breast
3-4 pc. Shrimp Wild 14-16 count
Vegetables are what you like and how many you feel your family would want per skewer.
Red, Green, Yellow and Orange Peppers
Whole Mushroom
Cherry Tomato's
White Onion
Pineapple
Seasoning Marinate for 4 people served
1/4 Tsp. Salt
1/4 Tsp. Papper
1/4 TBS. Onion Powder
1/4 TBS.Garlic powder
1/4 Tsp. Mustard Powder
1/4 Tsp. Cayanne
Favorite Seasoning (Johnny's Seasonning Salt is great but there is so many to choose from) to taste.
1/8 cup Soy Sauce
2 TBS. Worchester Sauce
1/8 cup Red Wine Vingar
1/4 cup Olive Oil
1 Can of Beer (light in color)
2 Cans of lemon lime soda pop
1/4 cup Sweet Chili Sauce
1/4 cup Favorite BBQ Sauce
Get your Skewers and start to soak them in water so they wont burn at the tips. Mix all of the seasoning in a bowl let sit and disolve and blend togther. Cut your Chicken and Beef into 1 to 1 1/2 squares. Keep the Shrinp whole. Cut your vegetables and Pineapple in good size chunks (don't go to small). Don't cut the Cherry Tomatoes and Mushrooms leave whole. Sperate the marinate into 2 large plastic bags. One for the meats and the other for vegetables. If you have the time let sit and marinate 4 to 6 hours or more….a couple of hours will be ok. I put the Shrimp on a skewer by themselves. They cook a little different and we don't want to over cook them. To make it a bit easier cooking the Shrimp double skewer the Shrimp so the wont rotate on the skewer while cooking. Next take the meat out and I put one piece of Beef and then one Chicken and alternate back and forth until the skewer is full. On the Vegetables and Pineapple I do the same. Alternate each kind on the skewers until full. These should look fantastic. You can use the marinate to baste the skewers while cooking if you would like. Turn heat up to 425 F. Once the BBQ or Smoker hits 425F you are ready to rock. Sprinkle with just a bit of your farorite seasoning and start the burn. Use tongs to turn your skewers. Make sure all of the meat turns at the same time. Cook for several minutes on all four sides. After one turn on each side take some Sweet Chili Sauce amd BBQ sauce mixed together and brush the Meat and Vegetables. Contiune the cooking process for one more turn with the Sweet Chili or BBQ sauce basted on the meat and vegetables. This will add flavor and a little crust around the edges. We are looking for the edges to be a little crispy and the center nice and juciy. You can eat them just like this or add some nice white rice to the mix. Serve and enjoy!
---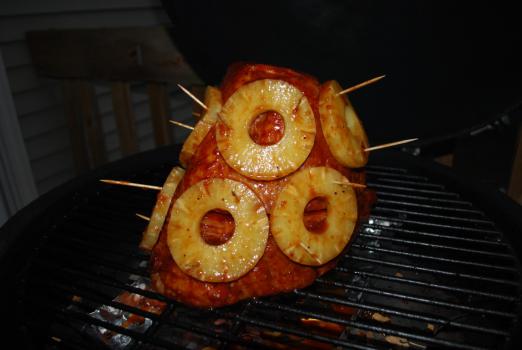 So this week we are going to put together a Ham for the BBQ or Smoker. This recipe is brought to you by Pappy at Mack's Finer Foods home of the Pappy Dog, Peppy Dog, Beefy Dog and the EL Peppy Dog. You can find these at your local Market or Grocery store.
It is important to get a good Ham. There are so many to choose. Boneless, Bone-in, Spiral, Honey, Half or Whole. I prefer a good Bone-in ham none spiral cut. Spiral cut Hams are ok but you have to watch them a bit more so they don't dry out when cooking. Almost all Hams in the grocery store are fully cooked. This recipe is for Cooked Hams. You can get ones that are not cooked but that creates a whole different situation on cooking and preparation. I do like the fully cooked Bone-in Ham better than boneless. It adds a bit more flavor and just looks better on the plate being served. If you choose to buy a boneless Ham cheaper is not better all. Find one you like and run with that one. Bone-in Hams come in Half, Whole, Shank End, Butt End for your choice. This recipe is for a Whole Bone-in Ham. These will be about 7 to 12 pounds. With the Bone-in Ham figure about 8 to 12 ounces per pound (Boneless is 6 to 8 ounces per person). These Ham have already been cooked and a salt-water base added for the smoking process. You do not need to add salt to these at all there is plenty.
9-12 lbs. Bone-in Ham (pre-cooked)
Basting Ingredients:
1 1/2 cup of Apple Juice
1/2 cup of Orange Juice
1 1/2 cup Pineapple Juice (you can use a Pineapple, Banana, Strawberry pre-mixed combination)
2 Tbs. Worchester Sauce
2 Tbs. Apple Cider Vinegar
2 Tbs. Dijon Mustard
1 Tbs. Soy Sauce
1 Tbs. Garlic Powder
1 Tbs. Onion Powder
1 to 2 Tbs. Brown Sugar (your desire for sweetness)
1/4 tsp. Cayenne Pepper
1/2 Tbs. Dry Mustard Powder
1/2 cup of Sweet Chili Sauce
1/2 cup Honey
4-5 Pineapple rings (separate)
Add all of the above ingredients (except Pineapple) into a sauce pan and let marinate together. Take you bone-in Ham and score the Ham in a crisscross pattern about a 1/2 inch deep, fat side up. This will help the marinate sauce stick and get into the cuts for better flavor while cooking. Place the Ham in a tinfoil pan. This will help when we marinate the Ham down the road. Set the BBQ or Smoker at 325-350 F Indirect heat. The Ham is already cooked so we are just warming up to the desired temperature. The internal temperature should be around 140 F. Figure about 14–17 minutes per pound. With about an hour to go warm your ingredients in the sauce pan and get it all dissolved. It should not be runny and should be a little thick and sticky. This will coat your Ham nicely. At one hour left turn the heat down to 250 F. Sugar will burn at 265 F and will add a bad taste to your Ham. Let the heat stabilize and start the process of coating and basting the entire Ham. The work of the day from here on out is "glazed". Every 15 minutes baste the Ham and let the glaze caramelize to the Ham. Repeat until you reach your desired temperature. Once done let stand 10 to 15 minutes. Place the Pineapple rings on the BBQ or Smoker bring the heat up and Grill the Pineapple rings. Put some really good grill marks on the Pineapple and place on the Ham while serving. Keep the left over marinate and pan drippings warm and drizzle over the Ham for flavor. This is just fantastic and look so professional and the taste….simply awesome.
---
BBQ Pork Chops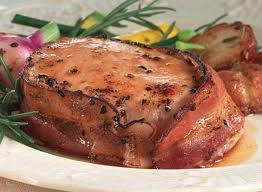 We are going to show you a great way to cook South Western Bacon Wrapped Pork Chops without drying them out. I would highly recommend getting a whole bone-in or boneless Pork Loin. You can get individual Pork Chops and cook them this way but you have a better chance of drying them out. If you get bone-in ask your butcher to score the back bones every 1″ to 1″1/2 depending on how thick you want your Pork Chops to be for serving. Boneless works great also. Make sure you get enough for everybody and a bit left over. These make great sandwiches the next day. Bone-in roast are roughly 8 oz. per person and boneless would be 6 to 8 oz. depending on the thickness of the Chop you want to serve. For example, you can look at the length of the Roast and get a 6″ piece and know you can have (6)-1″ Chops or (4)-1″1/2 Chops out of the Loin.
6 to 7 inch Bone-in or Boneless whole Pork Loin Roast. The recipe below is for this amount of meat.
In a bowl mix: (Remember you can always use fresh seasoning and vegetables when marinating)
1 tbs. Garlic Powder
1 tbs. Onion Powder
1/2 tbs. Celery Powder
1/4 tsp. Mesquite Seasoning
1/2 tbs. Smoked Paprika or any type
1/4 tsp. Cayenne
1/4 tsp. Mexican Chili Powder
1/4 tsp. Cumin
1/2 cup of Cilantro
1/4 tsp. of Mustard Powder
1/2 tsp. Pepper
1/2 tsp. Sea Salt or Kosher
1 Can of Lemon-Lime soda (7-UP, Sprite or any type)
1 Can of Mexican Beer (Light in color. I do not recommend a dark beer on this recipe)
1/4 Cup of Orange Juice
1/2 Pound of Bacon
Mix everything into the bowl and let dissolve (except Bacon). The longer the marinate the better. I do this for 24 hours but you can also do same day.
In a separate bowl mix in 1/2 cup of your favorite BBQ sauce and 1/2 cup of Sweet Chili Sauce. Save for later. Everybody carries Sweet Chili Sauce and these 2 mixed together are simply fantastic. You have to get the Sweet Chili Sauce it's the best and changes everything!
People will ask you…"where did you get this" or "what kind is this sauce" and of course you tell them you made it scratch…lol.
You can always add your favorite seasoning to your BBQ sauce to enhance the flavors. Once everything dissolves in the marinate get a large plastic bag that can hold the meat and the marinate.
Place the meat in the bag and pour the marinate over and seal the bag. Place in a pan or container so you won't leak the marinate in the refrigerator.
Make sure everything is coated and covered. Move it around every hour for a good coating. Set the BBQ or Smoker to 350F.
You don't have to be in a rush on cooking this either. When cooking we are looking for Pink to Clear once again on the juices.
No need to overcook pork at all…those days are gone. Use indirect heat and place the Pork Loin fat side up on the Grill or Smoker.
Save the marinate for later. Add a touch of favorite dry seasoning over the Pork for a bit more flavor. Get enough Bacon to lay over the Pork evenly so it is completely covered.
You do not have to get really good Bacon. We are looking for the flavor. Cook roughly 15 to 20 minutes per pound or until your internal temperature reaches 145F.
Once again each BBQ and Smoker work a different levels. We are looking for Pink to Clear on the juices.
With 15 to 20 minutes to go take your BBQ and Sweet Chili mixture sauce and drizzle over and coat the entire top of the Bacon Pork Loin.
Let it caramelize over the Pork Loin and Bacon. Once done take off of the Grill or Smoker and let stand 10 minutes.
Warm up the leftover marinate on the stove or BBQ and bring to a slight boil and let cool a bit. Cut you Bacon Pork Loin into your desired thickness and place on your plate.
Pour a touch of the marinate over the Pork Chops and serve. These are really great and you will be the hit of your BBQ.
---
Pappy's dry rub Pork Shoulder or Pork Butts brought to you by Mack's Finer Foods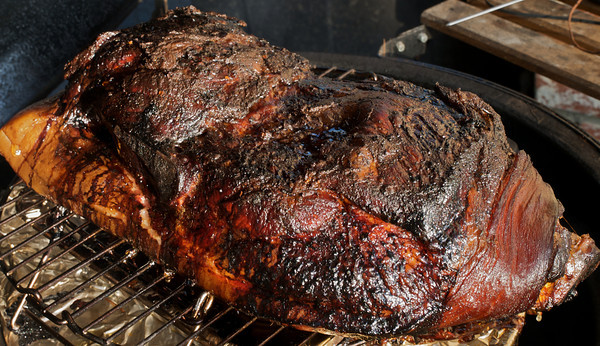 Go to your favorite butcher or grocery store and buy a Pork Shoulder or Pork Butt 6-9 lbs. Bone-in or Boneless ( you may do more than one…great left overs) The Pork Butt and Shoulder are the same pieces of meat.
If you go online and search, you can read why they are called different names but essentially are the same cut.
Please feel free to customize your seasoning to your liking!!
The rub…In a bowl mix
3 tbs. each of Garlic Powder (not Garlic Salt), Onion Powder, Celery Powder (or if you use Celery Salt 1 1/2 tbs.) and Paprika.
(With your seasoning, you can adjust the above and below ingredients to your liking. If spicier is your taste, then increase your cayenne, chipotle, chili powder, etc. If you do not own all the seasoning or you want to go with seasoning already pre-mixed. Johnny's Seasoning, McCormick's, Brisket rubs, and any Mesquite Rubs, are some of my favorites. Either way, taking the ingredients above adding salt and pepper will still give you a fantastic rub!)
So once you have put all of the spices listed above in a bowl we get a bit creative.
Then add:
1 tbs. of Salt or to your desired taste. Some people have issues with salt so be careful.
1 tbs. of Pepper
1 tbs. of Cayenne Pepper… or to your desired heat. Some like it Hot some not so much.
1 tbs. of Chili Powder
2 tbs. of Mesquite Seasoning
1/2 cup to 1 cup of Cilantro Fresh or Dried. Fresh is best but both work.
2 tbs. of Ground Dry Mustard
1 tbs. of Ground Cumin
2 tbs. of Chipotle
2 tbs. of Brown Sugar in the mix. Optional.
Rub the Pork Butt or Shoulder with oil and coat everywhere.
Then apply the mixed seasoning all over the Pork.
Be generous with seasoning and get it everywhere.
For best result do this 24 hours in advance. You can do it with less time but it won't have the time to work it's magic.
Put the Butts or Shoulders in a large container and cover or in a sealed bag and let the seasoning work into the meat.
Now to the slow cooking. The magic number for slow roasting is 225 F. This must be indirect heat!! I use a Traeger for best results but there are other methods. Cook between 10 and 12 hours depending on weather and conditions.
The heat must average and be maintained as close to 225 F for the cooking duration as possible. The other magic number is at least 185 F internal temperature. The meat should be at least 185 at a minimum. I like to go to about 195 to 200 F. Total cook time will be 10 to 12 hours. For 6 to 7 hours cook un wrapped in the smoker. This will create a great smoke flavor. For the last 4 to 5 hours wrap the butts in tinfoil tight and cook until internal temperature reaches 195 F. This will hold in them moisture and the meat will turn out fantastic. When the meat reaches these numbers take off and keep them wrapped in tin foil and let stand for at least 20 min. I know you will want to get in there and eat some but wait and let the meat stand before going for it. After 20 min. The meat will just fall apart. Shred with a fork or chop the meat to your specifications. Should you have any questions you can go to customerservice@Macksfinerfoods.com and ask. I hope you enjoy and let us know your thoughts.
---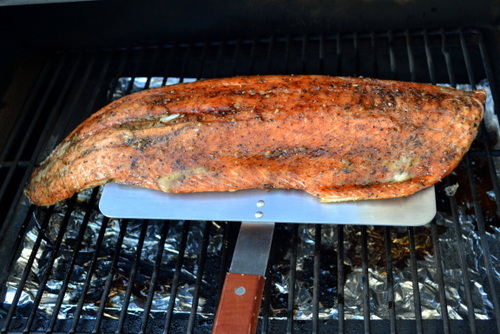 Delicious Salmon
Salmon on the BBQ or Traeger Grill Smoker
Brought to you by Pappy @ Mack's Finer Foods Home of the Pappy Dog line of the best Hot Dogs you can buy.
Today we are going to talk about 2 different ways to cook Salmon on the BBQ or Traeger Grill.
I prefer Chinook but any kind of Salmon is great.
The 2 different styles were going to do today are: Mayonnaise Coated and Cajun.
I like to buy a whole Salmon filet. I then cut into 2 equal pieces. Make 2 tinfoil trays (use thick tinfoil but if you use thinner foil double the foil). Get enough foil to fit the Salmon in and then fold the sides up to maintain all of the juices while cooking…I do not enclose the foil because I like it a bit crispy on top as it cooks. Also this saves the mess on the grill and in the kitchen. You can serve right out of the foil. After making the foil bowls spray with Pam or other non-stick spray.
Mayo Grilled Salmon
Ingredients:
2 tbs. of Best Foods Mayonnaise (very important to get good Mayo)
1/2 tsp. of Garlic powder, Onion powder, Celery powder, Dill weed
1/4 tsp. of Cayenne or any heat you like. Do not over power with the heat just a hint.
1/4 tsp. of salt. Do not over use the salt…just a hint.
1/4 tsp. Salmon rub you can buy premixed at your grocery store. This is optional. You already have some great flavors but this could enhance the flavor a bit.
1 tbs. of Lemon if you like. I prefer no Lemon but many like the citrus flavor on the salmon.
1/2 cup of Green Onions
Mix the seasoning in a bowl minus the Mayo, Lemon and Onions. Sprinkle the Salmon with the some of the seasoning cover and let stand about an hour in the refrigerator. About 15 min. before you start to grill place the Salmon in the foil. Coat with the Mayonnaise and then the rest of the seasoning. So you should have some seasoning, then the Mayonnaise and the rest of the seasoning sprinkled on the top of the Mayonnaise. Chop the Green Onions and sprinkle over the Mayonnaise. If you like the Lemon add just a bit now and the rest when it comes off the grill. Set the heat to 325 F. Once you hit 325 F. place the Salmon on the grill with a closed lid. Cook about 15-20mins. Make sure it flakes at the thickest part and you show see some bubbling around the edges from the Mayo and oils from the fish. Serve and enjoy it…this is outstanding.
Cajun Salmon Grilled – Really simple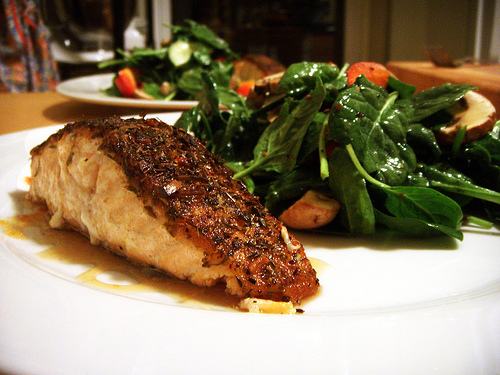 I use Oregon Oyster Farm Cajun Seasoning. You can order on line or get it at their place on the Oregon Coast. www.oregonoyster.com. This is fantastic seasoning and I use it on everything…steak, burgers, chicken you name it we put it on and the flavors are great.
Mix 1 to 2 tbs. of soft butter in a bowl and 2 tbs. of the Cajun seasoning. Add as much as you desire. Some like it really hot some not so much. Coat the Salmon really good. Get it everywhere and to your desired heat. Just like the Mayonnaise Salmon…coat, cover and let stand one hour covered in the refrigerator.
15 min. before you grill place the Salmon in the foil bowl and cook right along the Mayonnaise Salmon.
Cook for 15-20 min. covered and let the oils work their magic in the Salmon.
You can also add lemon after it's cooked and serve.
This is so simple and so good. Hope you enjoy.
---
Pappy's Double-Double-Double Burger. Brought to you by Mack's Finer Foods and the Pappy Dogs
This is the Double-Double-Double Burger.
These are hearty burgers!! Be ready to eat.
These are 8 oz. burgers.
Take 8 oz. of Ground Chuck. Others will work but I like the Chuck and 85-15%. 85-15 is the number of meat verse fat In the grind. Some like it 80-20. 80-20 is great but make room for the burger to shrink on the grill. 93-7 is to lean and may be a drier burger but it's your choice. WHILE COOKING NEVER EVER PRESS DOWN ON THE BURGER WHILE COOKING AND TRY TO SQUEEZ THE JUICES OUT. DID I MENTION NEVER!!!!
Ingredients:
1 Burger
8 oz. of Ground Chuck
2 slices of your favorite cheeses. Mix and match and all cheese are good in these burgers. I like Pepper Jack, Sharp and Swiss.
2 slices of good bacon. Don't skimp, get some good thick bacon. Or a great substitute is a grilled Pappy instead of the Bacon sliced in half.
1 Bun. Once again get a good bun! May it be Onion, Kaiser, Pub or Chipata buns. Get the good ones it makes a difference.
1 Egg over easy.
Season to your liking. I mix and match for different flavors. But you always can go to the old standby's….Garlic Powder, Onion Powder, Salt and Pepper.
Split your 8oz. of ground beef into 2 separate equal portions.
I use a Burger ring you can buy that is a circular round metal piece. You don't have to but it works great and it helps form the burger and make the burgers even.
Put half (roughly 4 0z.) of burger into the metal form. Pat down good and fill the entire circle.
Put your favorite cheese thinly sliced into the form on top of the burger your formed into the circle.
I use several different kinds for more flavor. Don't go too thick though.
Seasoning it just a bit in the middle.
Then place the rest of your Ground Beef in the form and pat it down tight in the ring and make sure you cover the entire ring.
Season both side and fire up the grill. Let the burger sit a bit to merry the seasoning into the meat.
You can use a Traeger or any grill to your liking.
Set at 425 F. Let the grill get to the desired heat. Understand your hot spots on the grill and work it so it won't burn. You can always cook a bit slower and for a longer period of time.
Place the burger on the grill and add 2 strips of bacon over the burger as it cooks. This will add flavor and it's a cool way to cook a burger and bacon together.
Cook for 8-10 min's then turn. When you flip the burger place the 2 strips of bacon back on the other side while cooking. About 2 to 3 minutes left take the Bacon off or to your desired crispness.
Place your favorite cheese over the burger and let it melt. In a separate pan cook an egg over easy or a bit harder. Also with a few minutes left toast you buns on the grill for a crisp toast on the bun.
Make sure it gets done in the middle because of the thickness. THE INTERNAL TEMPATURE SHOULD REACH 160 DEGREES IN THE BURGER… Very important. But also don't go too far and cook all of the juices out of the burger.
Assemble and enjoy!!
---
BBQ Corn on the Cobb brought to you by Mack's Finer Foods home of the Pappy Dog line of the best hot dogs you can buy.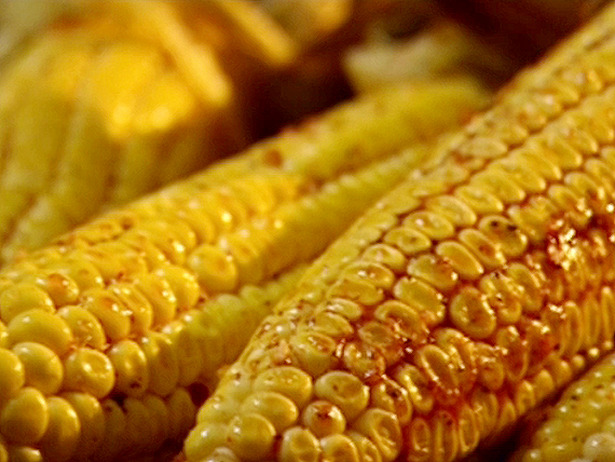 This is a very easy way to cook Corn on the Cobb that will be full of flavor and juicy tenderness.
I prefer White Corn or a mix of White and Yellow on the Cobb. Yellow is great but I prefer White or a White and Yellow mix.
Get a least one Cobb per person…now that being said every time I cook these so many of them go back for another Cobb.
Set the grill or smoker for about 325 F. Don't cook them to fast that will dry them out.
You can cook these directly on the grill or you can use a grate you can buy for grilling veggies. These look like a large square metal grate. Mine has two handles with sides and holes in the unit for the smoke and heat to get to the veggies.
Today's recipe are for direct on the grill.
Shuck the corn and clean.
2 tbs. of butter (soft but not liquid)
2 tbs. Olive oil
1 tsp. Garlic Powder
1 tsp. Onion Powder
Salt and Pepper to your taste
Just a touch of Chipotle or Cayenne
Mix the Butter, Olive Oil, Garlic Powder and Onion Powder in a bowl. Mix it really good. Get enough tinfoil to wrap each Cobb completely and tight.
Take the mixture and completely coat each Cobb all over. Place in the tinfoil wrap tightly and continue to do each Cobb the same way.
Take the Salt, Pepper, Chipotle and Cayenne. Coat the Corn with the seasoning to your desire flavor and heat. You can use any seasoning you would like. It is all great.
Wrap the corn really tight and place on the grill at 325 F about 15 minutes. Then take the Corn off and unwrap and place directly on the grill. Watch and turn to get all sides.
Cooked to a golden brown color and tenderness. Don't overcook this will dry the Corn out. Use tongs and don't poke the Corn….If you poke and puncture the Corn the juices will drain out.
Once you cook to your desire color take off butter once more add a bit more salt and pepper.
Enjoy and thanks from Mack's finer Foods, Pappy.
---
BBQ Chicken from Pappy @ Mack's Finer Foods. Home of the Pappy Dog, the best hot dogs you can buy! Now in 4 flavors…the Pappy Dog, the Peppy Pappy Dog, the Beefy Pappy Dog and the EL Peppy Dog.

This is a great recipe that won't dry out your Chicken. When BBQ'ing Chicken people think they have to cook it just a bit more to make sure it is done. This is where so many people completely over cook the Chicken. It is important to get it done but a key to the cooking is very simple.
When the juices go from pink to clear the chicken has been cooked enough so you won't have any complications. Take them off of the grill or the smoker immediately. Seriously this will make you the king of Chicken and people will be asking you how did you do that. Of course you won't tell them because you're the king of BBQ Chicken…remember.
Chicken Breasts are the hardest to cook without drying them out. The rest are pretty easy and if you follow these steps it will be so good, tender and moist.
Always clean your chicken before you prepare to cook and do not cross contaminate your counter tops.
Always when cooking Breast, Thighs, Legs, or Wings start with the biggest pieces first. Breasts always go on first.
You can cook bone in or boneless whatever you desire. Bone-in will have a bit more flavor but the boneless can be fantastic also.
Get enough Chicken pieces for everybody and the different types they like. The list below is for 5 Boneless Breast and 8 Boneless Thighs.
Seasoning: mix the following in a bowl.
1 tbs. Garlic Powder
1 tbs. Onion Powder
1 tbs. Celery Powder
1 tbs. Mesquite Seasoning
1 tbs. Chipotle Seasoning
1 tbs. Smokey Paprika
1/2 tbs. Salt
1/2 tbs. of Pepper
1/2 tbs. Cumin
1/2 Cup of Oil
1/2 cup of fresh Cilantro
2 Cans of Beer (light in color). You can use darker beer but it can be overpowering.
2 Cans of 7-up, Sprite or Lemon-Lime will work.
1/2 cup of Orange Juice
(You can always use fresh veggies to marinate also) Remember you can always add more or less to these ingredients for your liking. Mix everything above into a big bowl.
Let everything sit a while to dissolve in the liquid.
Place the Chicken and the mix in a large bowl or a plastic bag that will hold everything.
Seal and let marinate for 24 hours.
Turn every so often for a good coating. You can do less time marinating but the more time mixed the better.
Set the BBQ or Smoker to 325F. Go indirect heat. Use side, back or front burners to keep Chicken away from direct heat for the most part.
You can take your time, it's not a race.
Set the Breast on the grills and start the cooking process.
Remember you always start with the biggest pieces first.
Set on the grill diagonal for 5 mins. After 5 mins. turn 90 degrees and this will create nice grill marks.
When you turn the Chicken over repeat the process for a nice grill mark on the back side.
After you put the Breast on for the first 10 mins. place the Thighs on the grill. This will help keep the cook time ending together.
Remember we are looking for the pink juices to turn clear. Never use a fork to turn your Chicken always tongs.
And never press down on the Chicken to squeeze the juices out either.
You do not want any of the juices releasing from the meat. You will notice a firmness on the chicken as it cooks. The more firmness the more cooked. Do not overcook.
Each BBQ or Smoker cooks at different levels. Keep an eye on the Chicken so you don't overcook…it is a process but well worth it.
To many people do not coddle the meat when BBQ'ing. They just walk away and can't figure out what a happened when it burned or didn't get done. Keep your eye on the situation.
The entire cook time should be should be roughly 35 to 45 mins. for the both the Breast and Thighs.
BUT watch your grill and look for the Pink to Clear. Once done let sit for 10 mins so the Chicken retains the juices. Serve and enjoy!!