The summer is nearly here and it's time to refinish the deck to have it ready for the upcoming evenings of outdoor entertaining. The key for your wood deck is to do the correct preparation before you start. If you have an older wood deck, it probably looks pretty dull and grey. To get it back to its correct color, you will need to clean and brighten it first. If you put the new stain on an old, unclean board it will look splotchy and uneven. The good news is that you can clean and brighten your deck in just one day.
First you will need to get a good cleaner. There are fine products from Wolman and Superdeck, but you should check with a Parr expert to make sure that you get the right kind for your deck material. When you put the cleaner on your deck you need to work it around with a good stiff brush. After the cleaner is done, then you can use the brightener. Most of these brighteners will work on your deck while it is still wet. You can leave the brighteners on the surface for the recommended amount of time and just hose them off.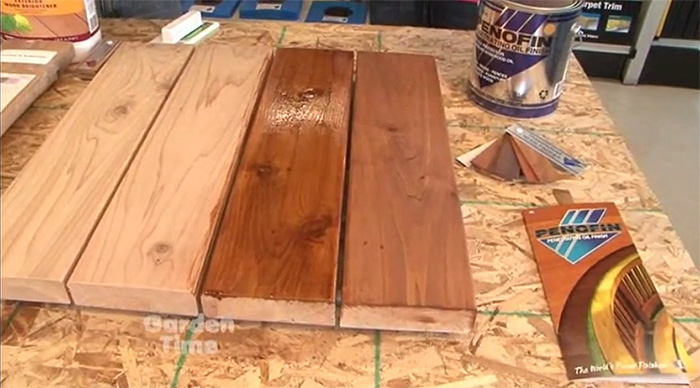 Once the deck is cleaned and brightened, then you can apply the new stain. There are lots of choices when it comes to stains. You can go with a semi-transparent that will allow you to see more of the natural grain in the wood. Another option is a solid stain, which is more like paint. If you are changing the look of your deck and you are not sure about the new color, find a slightly hidden part of the deck and do a test patch. This will let you check the color before you do the whole deck.
Wolman and Superdeck have great staining products. Another wonderful stain is Penofin, which has rosewood oils that will penetrate the wood and help protect it longer from UV damage. There is also a RainCoat product, which is more of a clear sealer. With most of these products you will need to redo the process every 2-3 years. Amber also recommends doing a thin coat to start with and then applying a second coat if needed.
If you have a new composite deck material, they also have special cleaners for those that work great. If you need to clean and re-stain your deck, be sure to do the job right the first time with help from Parr.
Here's a video highlighting video how to refinish your deck:
Need Help?