Choosing the right door can be intimidating. There are so many options it's hard to know what to choose. Doors can make an architectural statement, becoming the focus of your home, or they can be more traditional, meant to blend in with the rest of your home. Exterior and interior doors perform different functions, and because of this are made of different materials. Choosing the right door has a lot to do with understanding the benefits of each style and material, then selecting the one that is best for the space in your home.
Exterior doors
The exterior doors on your house make a statement about both you and your family. They can be simple or ornate, colorful or neutral, or stylish or traditional. Since they also provide protection from the elements, it's important that they are insulating and watertight.
Exterior door materials
Exterior doors come in three materials: wood, steel, and fiberglass.
Wood doors provide a natural beauty, but they can be sensitive to moisture and sun. They are generally a sandwich of wood veneers over a steel or wood core. This lowers costs and minimizes warping.
Steel doors are resistant to the elements but may dent. They can have good energy efficiency, but don't perform as well in extreme climates.
Fiberglass doors are affordable and durable and are well suited for harsh climates. Some fiberglass doors have a foam core which acts as an excellent insulator.
Exterior door styles
Exterior doors come in a variety of styles: entry, patio, swinging French, Dutch, arch top, and bifold.
Entry doors come in a variety of designs and architectural styles and can include cutouts for glass. They keep the harsh elements outside and provide insulation.
Patio doors are generally gliding or sliding glass doors. Similar to windows, they can be made from vinyl, composite, or wood. They're simple style fits in with virtually any decor.
Swinging French doors provide an elegant look while maintaining views to the outside. They come in a variety of grid patterns. They can be susceptible to the elements if not protected, and the glass needs cleaning regularly.
Dutch style doors are split into two halves, top and bottom, which can work independently or together. They allow great flexibility when it comes to allowing light and breezes into your home.
Arch top doors have a rounded top and may come with integrated glass panels. Changing from a standard door to an arch top requires additional carpentry, but they can be a beautiful addition if your home is already framed for them.
Bifold doors may be used in place of French or patio doors. Each panel folds back on itself to provide a wide access area.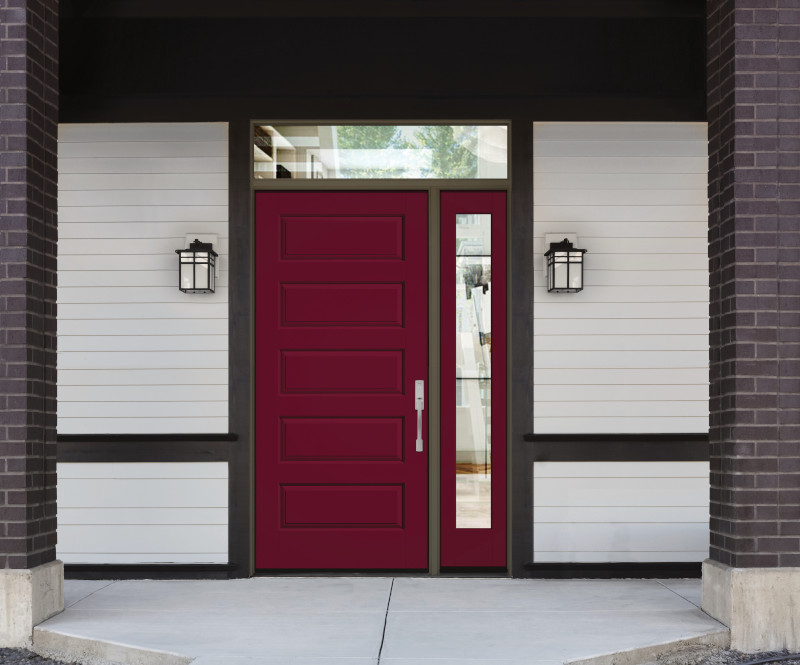 Interior doors
Interior doors provide privacy and soundproofing. Like their exterior cousins, they can make a stylistic statement, or blend into the woodwork.
Interior door materials
Interior doors come in one of five materials: wood, MDF, glass, solid core, or hollow core.
Wood doors provide a warm, natural look, and can be made from a variety of wood species. The most popular woods include cherry, walnut, maple, and juniper. Solid wood doors shrink and expand with changing temperatures and humidity, so aren't a good choice in areas exposed to moisture, like bathrooms or kitchens.
Medium density fiberboard (MDF) is made of recycled wood fibers and is one of the most common interior door materials because of its affordability and durability. These doors don't have a wood grain texture, so they are perfect for painting.
Metal and glass doors are gaining popularity, as they offer a stylish, streamlined look. With their glass inserts, they are more expensive than other interior doors, but are cheaper than a solid wood door.
Solid core doors are made with an exterior skin made of plywood or molded composite. The interior of the door, called the core, is filled with a wood fiber blend that is meant to mimic solid wood. These are a less expensive option to solid wood doors.
Hollow core doors are made with lighter materials like plywood or molded composite for the exterior skin. The cores of the doors are hollow. They aren't as durable as other door styles, and don't block noises as well as solid core doors.
Interior door styles
Interior doors come in a variety of styles, including paneled, bifold, pocket, barn, Dutch, and glass paneled.
Panel doors, as the name implies, are crafted of several wood panels on the face of the door. Squares or rectangles of wood are raised or recessed on the door face.
Bifold doors may be used in wider openings. Each side folds on itself creating a larger opening than a standard door.
Pocket doors are hidden in the wall and roll out when pulled on the side. They are often used when there is no room for the swing of a hinged door or in smaller openings.
Barn doors provide a more rustic look. They are sliding wood doors with large, visible hardware. The door slides along a track hung above the doorway.
Dutch doors are split in half, with each half operating independently of the other. These doors allow both breezes and light to transfer between rooms, while keeping children or animals in.
Glass paneled doors allow natural light to flow between rooms. They come in a variety of frame colors and panel sizes.
Choosing the right door
When selecting a door, think about where the door is located, the use of the rooms on either side, your decor style, and the door opening size. All of these factors will influence which type of door is best and what material you choose.
If you have questions about selecting a door, how to measure for a door, or ordering a door, contact your local Parr Lumber store.