Guest post by Michael Ivanov
Fill your heart, not just your belly this Thanksgiving.
It took me from July to November, a day before Thanksgiving, 4 months, to express my gratitude.
This past summer I was driving home from a long day at work through some windy back roads, my short cut home, and the brakes on my car locked up (a problem I had experienced earlier in the week but thought I had fixed). I was stuck on the side of the road leading back to town and had no way of getting home besides waiting for them to cool off, hopefully giving me a chance to make it back before they locked up again. Red hot and still smoking, it would be at least an hour wait till they might release.
With a simple call to any of my brothers I would have help within 30 minutes so I was not completely out of luck but it was not needed. Someone had pulled over and asked me if I needed help. I explained the situation and the man said he could possibly help. His house was across the road down a long driveway so I followed him to his garage where he grabbed a few tools and we headed back to my car.
We popped the tire off and had the brakes released a few minutes later by letting some pressurized fluid flow out of the bleeder valve.
We talked for a minute and I learned that Shawn, was the manager at the Parr Lumber Company where my brothers and I would go to get lumber supplies and tools while framing my parents house. I thanked him and headed home. On the way I added this note in my "Notes" app, "Shawn parr lumber helped with brakes."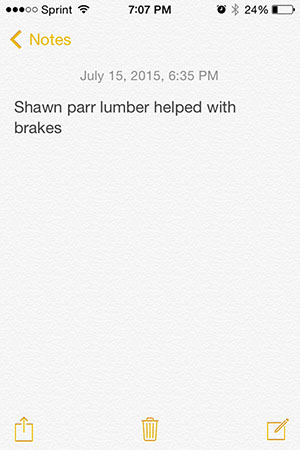 My intention was to stop by the store some time and say thank you again.
A grateful heart is a healthy heart
Feeling grateful doesn't just make you feel good, it physically helps the heart. There is an endless amount of evidence gathered from research by doctors, psychologists, and university professors that shows the incredible effect gratitude has on the human heart.
Paul Mills, a professor of family medicine and public health at the University of California San Diego specializes in disease processes and has been researching behavior and heart health for decades. He knew that having a positive mental attitude was great for your heart, fighting off depression, stress, and anxiety but wondered if gratitude would have the same effect.
He conducted a study in which he gathered 186 men and women with the average age of 66 who had damage to the heart either from years of stress, heart attack, or high blood pressure.
They each filled out a questionnaire to rate how grateful they were for the things and people they had in their lives. It turns out, the more grateful the people were the more healthier they were! They had a less depressed mood, slept better, and had much more energy.
In a follow up study, Mills took a closer look at gratitude. He tested patients who had indications of heart disease such as inflammation and heart rhythm, instructing them to keep a "Gratitude Journal" and write down a few things they were thankful for each day. After two months, inflammation levels were reduced and heart rhythm increased in patients who kept the journal.
Gratitude is fuel for the heart
It is hard to fathom that an EMOTION such as gratitude can actually impact the PHYSICAL heart. A muscle that pumps blood through your body being sensitive to how thankful you are for what you have!?
The Germans have Oktoberfest, we Americans have Thanksgiving and quite honestly sometimes I would much rather enjoy a big Stein of beer than be forced into the sometimes corny and awkward moments of just looking someone in the eyes and telling them how much you appreciate them. They should already know right? But I am grateful that at least once a year I am reminded to do the one thing that reverses the relentless beating my heart takes the other 364 days of the year.
Gratitude is a habit that I'm working on so instilling into my life that next time it doesn't take me 4 months to say thank you to someone who took the time out of their day to go the extra mile and help a random person on the road. Looking the way I did that day, I'm surprised anyone stopped to help. I was angry, sweating like Shaq at the foul line, and covered in Saw dust.
At times, especially for us men, it may seem a little corny and unnecessary to let someone know they are appreciated or to write out what we are grateful for but we have got to stop being lazy!
You may feel like your loved ones already know but for the sake of your own health, take some time and look at the life you have. Chances are you don't have enough fingers on your hands and feet to count all your blessings.
"A day of public thanksgiving and prayer to be observed by acknowledging with grateful hearts the many and signal favors of God"
-George Washington on "Thanksgiving"
Coming full circle
I have had "Gratitude" on my list of things I wanted to write about for months now and decided that it would be a great topic to cover since Thanksgiving is here. As I was scrolling through the "Notes" app on my phone, I scrolled past my note from the day my brakes locked up. If I was going to write about Thanksgiving, there was no better time than now if ever, to stop by and say "thank you" to someone who didn't think twice about helping out a stranger.
A Dutch Bros Coffee gift card is not much of a "thank you" but I also got the chance to shake hands and grab a picture (see above) with a complete stranger that I am grateful for this Thanksgiving.
You can follow Michael Ivanov on his blog.