Now is time of year when customers come to hardware and lumber stores with that 'spring project gleam' in their eyes.
And for thousands of homeowners across the Northwest, that will mean building a new deck or re-building one that's been worn down by years of neglect.
If you are in deck building mode in 2017, you are picking a fantastic time to build. That's because there are more choices of materials, railing and customization available than ever before.
The days where everyone on the block has a similar looking deck are over. Now, you can create a deck that is both a great investment, and that makes a statement about who you are, and how you live in your outdoor space.
Before: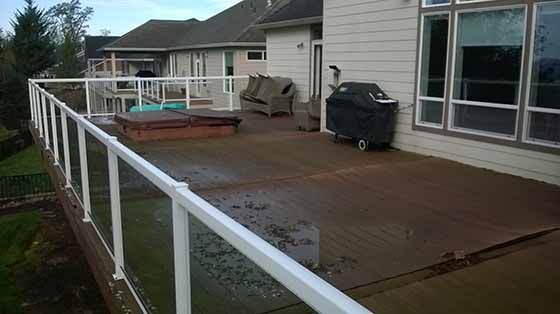 After: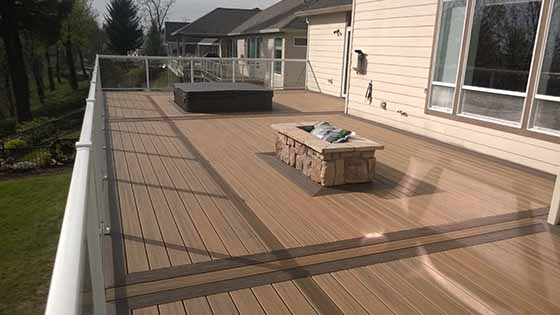 You don't have to take our word for it. Instead, get it straight from the deck project experts at Parr Lumber. We asked them for insight on some of the options so you can start planning your project from wherever you are right this instant.
Parr Lumber was founded in 1930, is locally owned, and has 24 Oregon and Washington stores. And the company is also known for something else: exceptional customer service made possible by long-term employees. They know to ask the right questions, so that each customer can determine what makes sense for their particular deck project and budget.
Homeowners replacing wood decking need not choose only wood
Let's start with one of the hottest trends going on right now: composite decking. It's been around for a while, but in the past, there were only a couple of color choices available. And according to Dave Wallace, Contractor Deck Salesperson at Parr Lumber's Vancouver, Washington store, they looked nothing like wood. Not anymore.
Before:

After: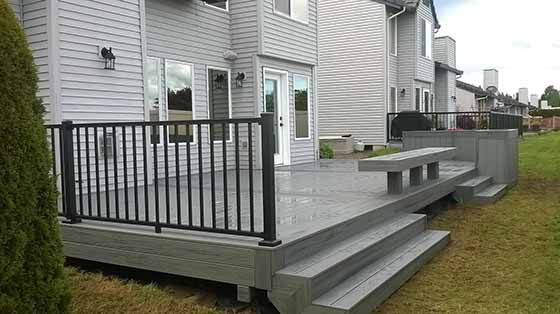 "Take Trex, for example," says Wallace. "They use up to 50% recycled materials in their product now and they have several different lines. The entry level has a low profile grain and is mainly solid, so it's a step up from their composite decking years ago. And, you'll find more wood textures that actually look like real wood," he says.
And increasingly, customers seeking long-lasting wood alternatives are asking about Azek's PVC decking, which is incredibly durable and scratch-resistant. It comes with a 30-year non-fade warranty, and is great at eliminating risk from stains — even things like wine, fruit punch and hamburger grease — that can mar a wood deck surface.
And these options are only a small part of the composite decking choices this year.
Wallace says people are choosing composite decking because they want to spend their valuable spring and summer weekends enjoying low-maintenance decks, rather than working on them.
Before: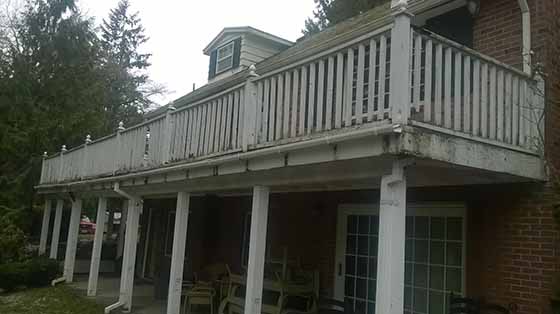 After:

"I've sold composite decks to people who'd once bought $800 worth of stain, cleaners and brushes to refinish their wood decking," he says. "Then they actually return those products, and say they'd rather go golfing than do that work every year."
Decking options can range from soft- and hardwoods to long-lasting, low-maintenance composite materials
Yet composites pricing is typically at a premium when compared to wood, so if they're out of reach, Wallace and his team can guide customers through a number of wood choices. From softwoods that are pressure-treated, to longer lasting cedar decking that was the standard before the newer options came along.
And there are a variety of hardwoods as well, including several — like Ipé, tigerwood and mahogany — that are sustainably harvested and will fade to a beautiful gray over time.
In addition to the materials used for decking under your feet, there are many other ways to customize your decking, such as the railings, posts, gates and don't forget lighting for safety or ambiance.
Before: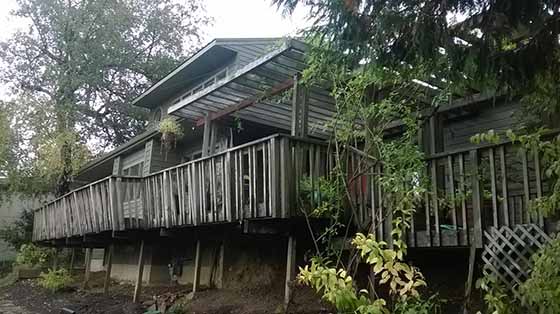 After: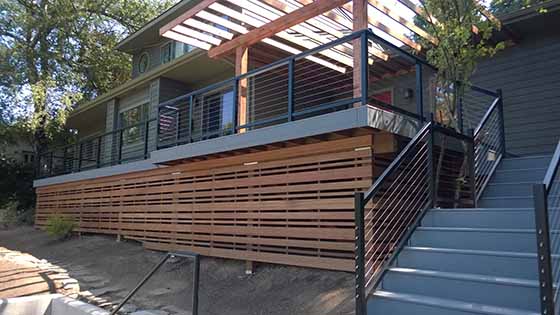 With all these choices, it can help to talk to an expert. You can actually make an appointment at a Parr Lumber store, where you can choose the colors and textures you want. Customers can also try out Parr Lumber's deck planning tool before coming to the store, which helps homeowners not only by getting their ideas down on paper, but also by enabling the experts at Parr to provide more accurate project estimates.
A little planning now can lead to years of entertaining and relaxing on the deck you build this year.
Says Wallace, "You can enjoy a wood deck for upwards of 20 years if properly maintained, or even longer for composite decking, because they carry a 25-year warranty."
After the winter we've had, even one year of enjoyment might be long enough to justify a new deck. But decades of enjoyment sounds even better.